YAMAHA YSS-875 EX.
CUSTOM EX serie soprano saxophone
From 5 243.00 4 718.00 €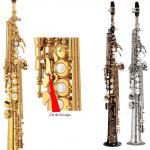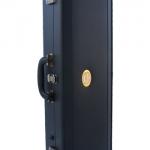 Description
Yamaha Custom EX sopranos are an improved version of the classic YSS-875 series, already considered by many to be the finest soprano saxes ever made. The new design with its G2 neck offers even broader expressive capabilities with wide dynamics, precise intonation, and a gorgeous sound with rich harmonics.

The YSS-875EX comes with both straight and curving necks to accommodate individual playing preferences.

Soprano saxophone players usually need to play higher tone than regular range. Most players play these as flageolets, but it needed high technique and the intonation is instable. To solve the problem, usually 'a high G key' helps to play. Then, Yamaha finally completed the YSS-875EX with the key and no change for functional mechanism of the original EX model. It is generally said that soprano saxophone with high G key has intonation concern. But studying about the intonation thoroughly, we realized stability of intonation.
My order
CUSTOM EX serie soprano saxophone YAMAHA
Choose your reference