YAMAHA YTR-6345 G
Bb trumpet 6000 serie, large bore
From 2 302.00 1 957.00 €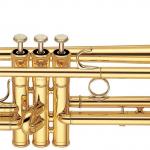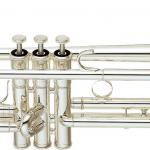 Description
Perfect For All-Around Playing...

Professional Series, Medium-weight Bb trumpet, Gold-brass bell, Bell: 123mm (4-7/8"), L bore: 11.73mm (0.462 ") , Finish: Gold lacquer, Mouthpiece: 14B4

Yamaha's professional models are medium-weight for a perfect all-around playability. They're at home in any setting, from studio to big band, concert band, chamber group, or orchestra. The 6345G features a large bore and a gold-brass bell for a warm, rich, commanding tone and is ideal for those who need versatility in their horn, who are looking for an instrument that will play and sound just right in any group or setting.
My order
Bb trumpet 6000 serie, large bore YAMAHA
Choose your reference