SELMER Présence La
Présence A clarinet
From 3 750.00 3 187.00 €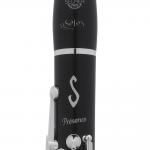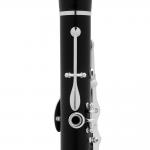 Description
Henri SELMER Paris A clarinet Présence and Présence Evolution
Thanks to its innovative bore design, the'Présence' clarinethas unique acoustic qualities that provide ease of emission, exceptional homogeneity and above all an instrument that is easy to play.The sound of the Présence clarinet is a mix of harmonic richness, and timbre; essential characteristics to the instrument. Also, the position and size of the tone holes has given this clarinet unrivalled intonation.Specially designed keys, as well as new key orientations and positions, provide unmatched mechanical precision and response combined with player comfort.The grenadilla wood is selected, delicately worked, naturally treated, lacquered and waterproofed for a protection and finish at the top of its class.

Key: A
Universal Scale: 440-442 Hz
Barrel: 66.5 mm
Keywork silver, nickel silver, or matte black choice
Adjustable thumb rest
Optional Eb left lever (model 1B)
Valentino pads
Ebonite Mouthpiece Henri Selmer Paris with Ligature and Cap
Case
PRESENCE EVOLUTION:
a new system available on all our professional B-flat and A clarinets : Présence, Privilège, Signature and Recital. This innovation combines a new generation resin into the wood, allowing better stability and longevity of the instrument, all while preserving the acoustic qualities of a wooden clarinet.
• Wood + resin: the best of both worlds
The interior diameter of the upper joint is enlarged, only on the upper half, to combine the resin. The final boring is then done in a traditional way – by hand and with our same tools. The resin used is a new patented resin. It is from a biomass that does not contain bisphenol A (BPA). BPA has been substituted with molecules derived from biomass.

• Increased longevity with a 10-year warranty
Our production process associated with the sealing properties of the resin create a hermetic envelope which prevents the infiltration of humidity in the wood fibers. Henri SELMER Paris solved the problem of cracks on the most critical part of the instrument, the upper joint, and offer a 10-year warranty.
Thirty clarinetists from different climate zones around the world particularly affected by cracks tested the longevity of the Evolution for five years, and they proved the reliability of the system.

• The acoustic quality of the preserved wooden clarinet
Scientific studies along with blind acoustic tests demonstrated that there is no notable difference in sound between traditional clarinets and EVOLUTION system clarinets..
My order
Présence A clarinet SELMER
Choose your reference