YAMAHA YBL-830.
Bass trombone XENO series
From 5 920.00 5 032.00 €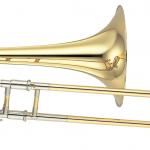 Description
The Ultimate Orchestral Style Trombone Has Arrived

Xeno Series, Key: Bb/F/D/Gb, Bore: LL: 14.30mm (0.563"), Bell: Yellow-brass or gold brass, 241.0mm (9 1/2"), Weight: Heavy, Outer slide: Yellow brass, Inner slide: Nickel silver, Finish: Clear lacquer, In-line Valve System.

Yamaha combined the knowledge they learnt in creating the Xeno tenor trombones with feedback from some of the world's great bass trombonists. The results speak for themselves; a state-of-the-art bass trombone with all specifications redesigned by an elite team of Yamaha designers and R&D experts. The 830 model includes features such as the newly designed yellow brass bell with a thinner wall for enhanced response, nickel silver slide crook for more substance to the sound, and a new rotor design which improves playability.
My order
Bass trombone XENO series YAMAHA
Choose your reference