YAMAHA CUSTOM MIYASHIRO.
Bb trumpet CUSTOM Eric Miyashiro
4 602.00 3 911.00 €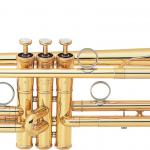 Description
Custom Series, Lightweight Bb trumpet, Yellow-brass bell, Bell: 134.4mm (5-1/4") , Multi bore, Finish: Gold lacquer, Mouthpiece: EM1

This model, developed in collaboration with Eric Miyashiro, draws out the emotional resonance of the performer. From its triple ring finger hook, large bell with French bead, side seam finish and customized mouthpiece design to its semi-hard double backpack case, the instrument showcases Yamaha's attention to detail at every turn.
My order
Bb trumpet CUSTOM Eric Miyashiro YAMAHA