YAMAHA YTR-9445 CHS
Xeno Chicago C trumpet
5 637.00 4 791.00 €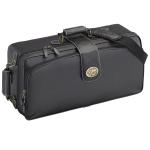 Description
Yamaha Xeno Chicago C trumpet

Intended for use in orchestral, concert band and other brass ensemble environments, the new Artist Model Chicago C trumpet was crafted with the input of John Hagstrom, member of the legendary Chicago Symphony Orchestra brass section.

The trumpet features a MalonePipe® leadpipe design, which provides superior response and accurate slotting. Additional updates include brace placement modifications and heavier valve caps, providing an optimal mix of flexibility and power to fulfill the needs of the highest-level orchestral musicians.
My order
Xeno Chicago C trumpet YAMAHA