YAMAHA YBB-632.
Bb tuba Neo serie
From 12 348.00 10 495.00 €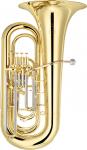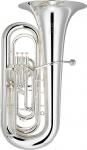 Description
The Yamaha BBb basses are designed in co-operation with Simon Gresswell to meet the needs of all brass bands. The design incorporates a large 500mm diameter bell that keeps the sound focused and always clear. They deliver a rich tone and abundant volume that provides the ensemble with a solid and stable foundation.

Neo series BBb basses with redesigned body and handrest allow for the most subtly nuanced dynamics and tonal inflections.

Large Diameter Bell:
At 500mm, this is the largest bell among Yamaha BBb basses. Its size greatly improves dynamic range while delivering a stable sound that envelops the entire ensemble.

Bore Size:
The bore size offers freer blowing with a moderate amount of resistance.

Fourth Valve Position:
An ergonomically repositioned fourth valve offers improved playability and makes fast passages easier to play.

Repositioned First to Third Valves:
After a thorough evaluation of valve positioning, a new design promotes a more comfortable playing posture.

New Handrest Design:
The semi-circular shaped hand rest makes the instrument easier to hold and reduces fatigue when holding the instrument for long periods of time.

Leadpipe:
A new leadpipe taper offers improved resistance. Evaluating the angle of the mouthpiece led to a design that offers a more natural playing position.

Large Brace:
A larger brace plate on the bell section delivers a moderate amount of resistance.
My order
Bb tuba Neo serie YAMAHA
Choose your reference