YAMAHA YFL-282 ID
200 series standard flute
From 828.00 704.00 €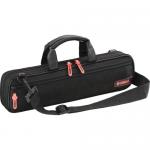 Description
200 series standard flute, Ring keys, In-line, Drawn & curled

• YFL-282 ID: nickel silver, silver plated
• YFL-282 GL ID: plaque gold plated 9k

Yamaha headjoint design - recognised as the best for beginners.
High standard of manufacture and handmade techniques – spend more time teaching and playing, less time maintaining
High quality pointed key arms – matching those found on our professional models
New optimised pads for longer lasting stability
Improved longevity – making this model a more secure investment than ever
Elegant new cup style – looks like a professional

Featuring a double flare taper and a unique embouchure hole undercut design for excellent response and a warm rich tone, the CY headjoint helps beginners quickly learn to produce a beautiful sound. More advanced players will appreciate its even, quick response in all registers.

Key posts have been thickened and redesigned for improved durability and strength to maintain accurate rod alignment.

All key shapes and placement have been ergonomically designed for a comfortable, natural-feeling performance. The keys are hand-assembled and adjusted for perfect balance and 'touch.'

Footjoint alignment marks facilitate proper fitting by young players.

A lip plate designed to guide beginners toward proper breath utilization, keys with carefully considered dimensions and angles for optimum balance and easy playability. These and other details are some of the reasons why Yamaha student and intermediate flutes have become bestsellers worldwide. An inimitable blend of leading technology and craftsmanship goes into each and every instrument. New refinements include pointed key arms contributing to elegant visual appeal, and a completely revised key parts manufacturing process that significantly enhances overall precision.

The 400, 300, and 200 series models offer various combinations of precious metal and nickel silver. An extensive lineup makes it easy to choose an ideal first instrument for every player.
My order
200 series standard flute YAMAHA
Choose your reference